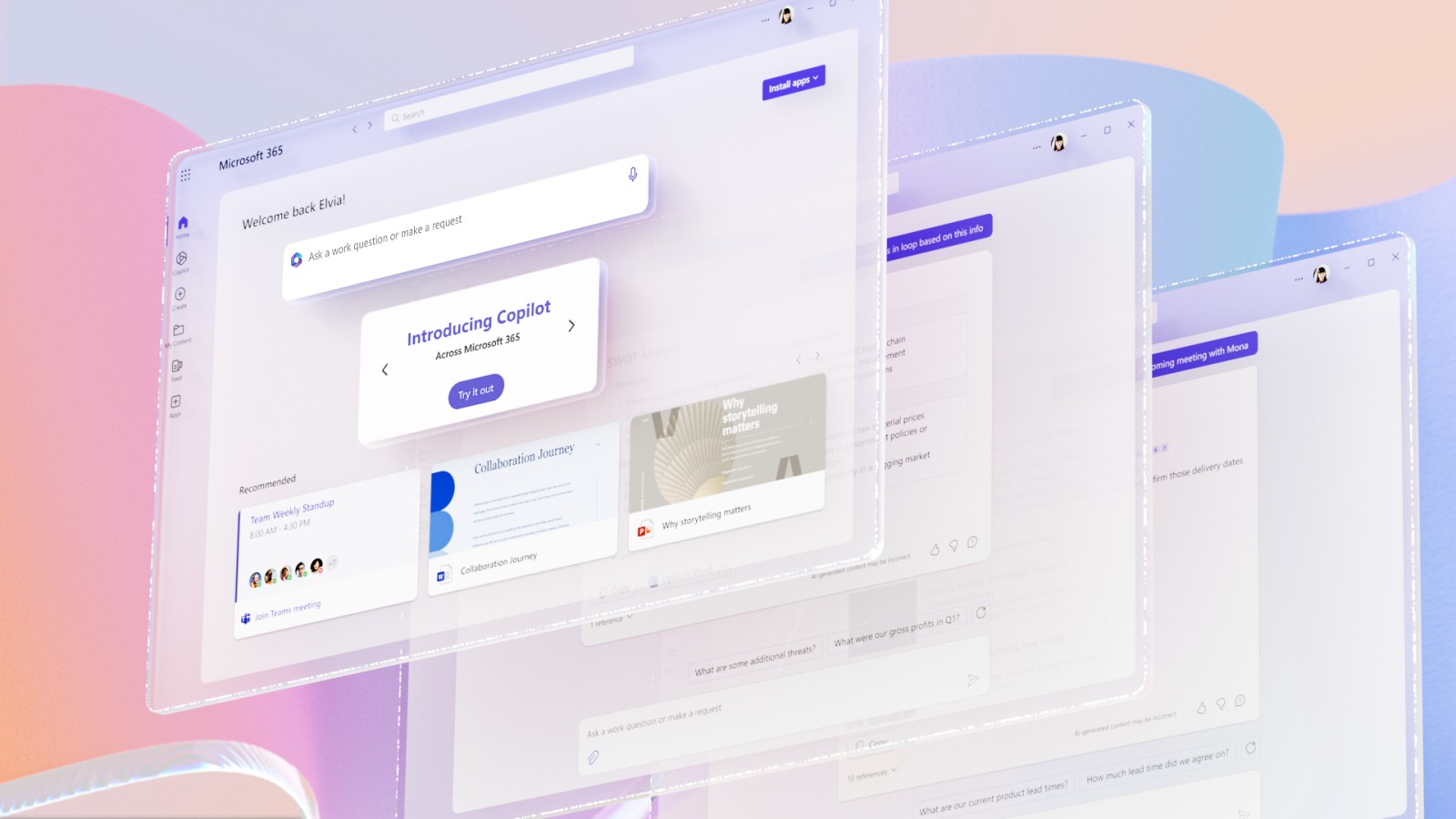 22 Sep

PT&T unveils first look of Microsoft 365 Copilot

PT&T (PSE:PTT) reinforces its commitment to innovation by offering users in the Philippines a glimpse into the Microsoft 365 Copilot.

The event, "Reinventing Productivity: The Future of Work with AI," symbolized a collaborative partnership between Microsoft and Crayon Philippines. PT&T offered attendees a personal demonstration and hands-on experience with the highly-anticipated Microsoft 365 Copilot.

Hosted at the Makati Shangri-La on September 20th, this event provided industry leaders with a pioneering opportunity to explore this transformative technology. Participants immersed themselves in the potential of AI to redefine productivity, with a particular focus on Microsoft 365 Copilot's capabilities.

James Velasquez, PT&T President and CEO, welcomed guests, underlining the pivotal role of AI in shaping the future of technology. He emphasized how AI empowers individuals and organizations to thrive in an increasingly interconnected world.

He noted, "The future of business is here. We are thrilled to introduce Microsoft 365 Copilot as an integral part of our Microsoft 365 License and Connectivity offerings, providing our customers with an avenue to explore the future of work, supported by a reliable internet solution."

The event featured an array of informative sessions, including "A Whole New Way of Working" presented by Rachel Garaygay of Microsoft, "Modernizing Productivity with Data and AI through Microsoft 365" by Gabriel Villanueva of Crayon, and an insightful discussion on "Data and AI with Microsoft Fabric" led by Abba Tan of Microsoft. These sessions guided the audience on an inspiring journey into the future of work with AI.

PT&T's partnership with Microsoft and Crayon Philippines affirms their shared commitment to delivering top-tier technology in an era where AI plays an increasingly pivotal role.

"We firmly advocate the transformative potential of technology to foster societal progress," Velasquez added.

Stay tuned for announcements regarding the official launch date of Microsoft 365 Copilot product. For the latest information, please visit our website at www.ptt.com.ph and be among the first to experience the future of AI.

# # #

Disclaimer on Forward-looking Statements and Information:
This disclosure contains forward-looking statements and forward-looking information in accordance with applicable laws in the Philippines. These statements and information are based on the current expectations, estimates, and assumptions of our management regarding future events. They are subject to certain risk factors and uncertainties, including those beyond our control, which may cause the actual results, financial situation, or performance to differ materially from the estimates or developments implied in these forward-looking statements. We undertake no obligation to update these forward-looking statements to reflect actual results, changes in assumptions, or changes in other factors affecting such statements, as required by Philippine laws and regulations.

About Microsoft (NASDAQ:MSFT)
Microsoft Corporation, headquartered in Redmond, Washington, with nearly 221,000 employees in 119 countries, is a globally recognized technology leader with a rich history of innovation and a commitment to empowering individuals and organizations worldwide. Microsoft's best-known software products are the Windows line of operating systems, the Microsoft 365 suite of productivity applications, and the Edge web browser. Its flagship hardware products are the Xbox video game consoles and the Microsoft Surface lineup of touchscreen personal computers. Microsoft has consistently shaped the way people live, work, and connect in the digital age.

For more information:
Please visit https://www.microsoft.com/

About Crayon
Crayon, headquartered in Oslo, Norway, with nearly 3,700 employees in 46 countries, is a global IT advisory firm in software and digital transformation services. It delivers first class solutions to support over 80,000 customers to build their commercial and technical foundation for a successful and secure cloud first, digital transformation journey. Crayon ensures its customer's IT estate is rightsized, managed, and optimized throughout the entire lifecycle. It advises its customers every step of the way through a framework of reliable services based on industry standards and best-practice methodologies.

For more information:
Please visit https://www.crayon.com/ph/

About PT&T Corporation (PSE:PTT)
Incorporated in 1962, PT&T is a diversified telecommunications and information technology services provider. The Company caters to corporate, small/medium business, and residential segments across the Philippines. PT&T continues to specialize in adapting its services to the needs of enterprise and institutional end users. At present, PT&T's business activities are categorized into two major businesses: Connectivity and IT Services.

Currently, PT&T has a network reach of 27,569 fiber kilometers in high-growth areas, covering almost 40% of the total Philippine population. The Company holds a 25-year National Legislative Franchise which allows it to establish, maintain, and operate both wired and wireless telecommunications systems for domestic and international communication. PT&T is a publicly listed company in the Philippine Stock Exchange.

For more information, please contact:
PT&T's Investor Relations at [email protected] or visit https://www.ptt.com.ph or check @PTTFiberInternet on Facebook or LinkedIn.