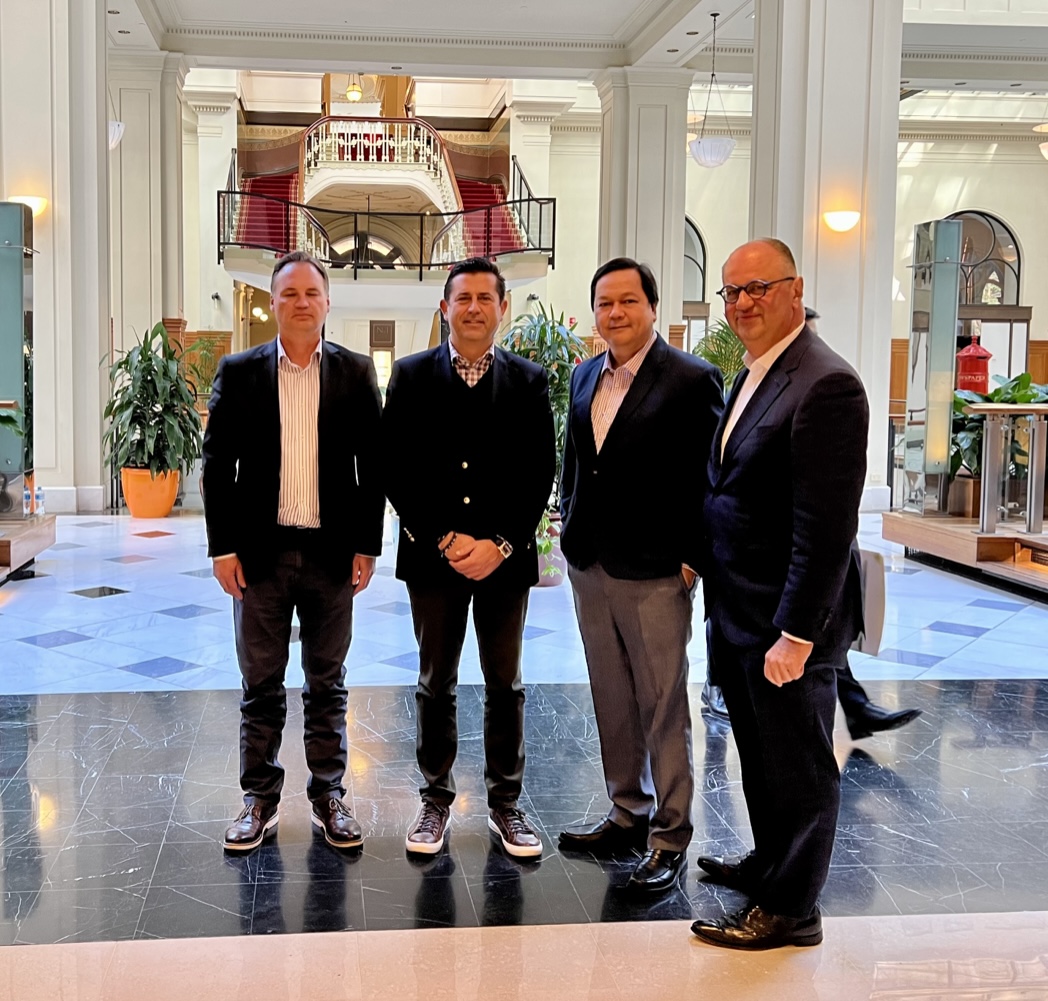 14 Jun

PT&T to sell Starlink to customers through Netlinkz partnership

In photo (from left to right): Netlinkz Head of Satellite Stuart Dasler, Netlinkz Managing Director and CEO James Tsiolis, PT&T President and CEO James Velasquez, and Netlinkz Advisor Jim Praketes

With its archipelagic nature, the Philippines poses challenges when it comes to connectivity. However, satellite technology emerges as the ideal solution, allowing access to even the most remote and inaccessible terrains such as towering mountains, isolated islands, and offshore locations.

PT&T (PSE:PTT) is at the forefront of this advancement, joining forces with NetLinkz (ASX:NET), a leading Australian technology firm specializing in secure virtual network solutions. Together, they bring Starlink, SpaceX's revolutionary satellite-based internet service, to customers across the Philippines. This strategic partnership aims to empower businesses in remote areas with stable, high-speed internet, unlocking endless possibilities in the digital world.

Starlink has gained global attention for its cutting-edge technology and has now expanded its services to the Philippines. The service utilizes a network of low Earth orbit satellites to deliver fast internet speeds and low latency, revolutionizing internet connectivity for users.

"We are thrilled to bring Starlink to the Philippines and offer our customers with the need for connectivity with a reliable internet solution," said James Velasquez, PT&T President and CEO. "Our partnership with Netlinkz allows us to provide high-speed internet access to areas where traditional broadband services are limited or unavailable."

Customers in the Philippines have various purchasing options available to them for obtaining the Starlink kit, now including direct purchase from PT&T. This ensures accessibility and convenience for its valued customers.

Once customers avail of the Starlink kit, they will have access to various monthly plans tailored for Enterprise and Maritime customers, each with different pricing options based on their specific requirements. These plans will offer data caps ranging from 50GB to 6TB, and beyond the cap, customers will continue to enjoy unlimited throttled data. The monthly plans promise peak download speeds of up to 350Mbps and upload speeds of up to 40Mbps.

Recognizing the increasing importance of dependable internet access in today's digital age, PT&T is committed to bridging the connectivity gap in the Philippines. With the introduction of Starlink, users can now enjoy fast, consistent, and affordable internet connectivity that was previously inaccessible anytime, anywhere.

"We are proud to partner with PT&T to bring Starlink to the Philippines," NetLinkz Managing Director and CEO James Tsiolis stated. "This collaboration aligns with our mission to provide innovative and secure network solutions. We are excited to contribute to the digital transformation of the country, empowering Filipinos with advanced internet capabilities."

Stay tuned for more announcements and updates as we count down to our launch of the Starlink. For the latest information, visit our website at www.ptt.com.ph, and be among the first to experience the future of connectivity.

Disclaimer on Forward-looking Statements and Information: This disclosure contains forward-looking statements and forward-looking information in accordance with applicable laws in the Philippines. These statements and information are based on the current expectations, estimates, and assumptions of our management regarding future events. They are subject to certain risk factors and uncertainties, including those beyond our control, which may cause the actual results, financial situation, or performance to differ materially from the estimates or developments implied in these forward-looking statements. We undertake no obligation to update these forward-looking statements to reflect actual results, changes in assumptions, or changes in other factors affecting such statements, as required by Philippine laws and regulations.

About Netlinkz Limited (ASX:NET)
Netlinkz Limited is a networking vendor with a vision to create secure personalised connections for every user. The Netlinkz Virtual Secure Network (VSN) solution is a Network-as-a Service (NaaS) proposition that is user-centric, creating a per-user private network that is available, secure and performance optimised, for authorised users regardless of their location.

Netlinkz VSN allows enterprises to embrace their new-normal by allowing IT departments to consistently enforce employee connectivity policies (compliance), simplifying operations (cost), improving security (business continuity), while directly correlating technology investment to user productivity (value).

The company offers a range of products across three broad categories:
▪ Secure Internet, with Netlinkz VSN transforming Starlink technology into a business grade service providing secure high-speed internet and an invisible cloud network
▪ Network Security, which future proofs clients' business with Netlinkz's high-speed, secure cloud first private work solutions
▪ Secure CCTV and IoT, with Netlinkz VSN ensuring that all clients' video feeds and data from their CCTV and IoT systems are securely transferred, integrity checked and securely stored.

For more information:
Please visit http://www.netlinkz.com or check @Netlinkz on Linkedin and @NetLinkzLtd on Twitter.

About PT&T Corporation (PSE:PTT)

Incorporated in 1962, PT&T is a diversified telecommunications and information technology services provider. The Company caters to corporate, small/medium business, and residential segments across the Philippines. PT&T continues to specialize in adapting its services to the needs of enterprise and institutional end users. At present, PT&T's business activities are categorized into two major businesses: Connectivity and IT Services.

Currently, PT&T has a network reach of 26,461 fiber kilometers in high-growth areas, covering almost 40% of the total Philippine population. The Company holds a 25-year National Legislative Franchise which allows it to establish, maintain, and operate both wired and wireless telecommunications systems for domestic and international communication. PT&T is a publicly listed company in the Philippine Stock Exchange.

For more information, please contact: PT&T's Investor Relations at [email protected] or visit https://www.ptt.com.ph or check @PTTFiberInternet on Facebook or LinkedIn.