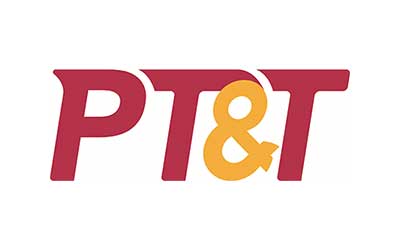 04 May

PT&T revenue grows 11% YoY with core EBITDA growing at 12% YoY

According to its latest disclosure, diversified telecommunications firm PT&T reported an 11% year-on-year revenue growth for the year ending December 31, 2022.

Continued growth in its Fixed Broadband Business and the significant contribution of IT Services attributed to the company's strong financial results.

PT&T's President and CEO James G. Velasquez stated, "Our investment in IT services 4 years ago has now proven fruitful, as it has significantly contributed to the company's overall revenue share."

He adds, "Our financial performance further affirms our recent recognition in attaining the 11th spot on the Philippines' Growth Champions for 2023 roster by the Philippine Daily Inquirer and ranking 325th on Asia-Pacific High-Growth Companies for 2023 index by The Financial Times. The inclusion of PT&T in the rankings is a testament to the unwavering dedication of our team, who relentlessly pursue excellence in our commitment to enriching the lives of Filipinos through our mission of internet accessibility and digital transformation."

PT&T was able to achieve 12% growth in its core EBITDA while maintaining a steady 19% margin.

The company also sustained a remarkable reduction in its net loss by 37% compared to the previous year. This achievement is mainly due to the substantial growth of the company's two main business segments and operational discipline.

Mr. Velasquez further emphasizes, "Despite significant non-core expenses incurred by the company related to its corporate rehabilitation and fundraising initiatives, PT&T managed to sustain a remarkable reduction in our net loss due to the company's astute financial stewardship."

PT&T is committed to upgrading its network and enhancing the skills of its workforce, positioning itself as the preferred partner for broadband connectivity and innovative digital transformation solutions in the markets it serves.

"PT&T is developing a roadmap for recovery and resilience centered on nation-building and customer-centricity. While we remain committed to our core business of connectivity, we are also exploring opportunities beyond our current business. Our investment in IT services is expected to open doors to new markets and revenue streams in the coming years," Mr. Velasquez said.

PT&T announced that it is expecting to strengthen its ability to provide reliable, efficient, and sustainable broadband and IT services in the CALABARZON area while it prepares to raise US$200 million to 300 million (₱11 billion to 17 billion) for a significant upgrade of its network infrastructure.

This encouraging progress marks the start of PT&T's endeavor to regain its position as one of the top telecommunications companies in the country.

NOTE: The disclosure may constitute forward-looking statements and facts. Such statements are based on current expectations of future events, estimates, and certain assumptions of our management. These are therefore subject to certain risk factors and uncertainties, some of which are beyond our control, and which could cause the actual results, financial situation, or performance to differ materially from the estimates or developments that are implied in these forward-looking statements. We do not assume any obligation to update these forward-looking statements to reflect actual results, changes in assumptions, or changes in other factors affecting such statements.

ABOUT PT&T:

Incorporated in 1962, PT&T is a diversified telecommunications and information technology services provider. The Company caters to corporate, small/medium business, and residential segments across the Philippines. PT&T continues to specialize in adapting its services to the needs of enterprise and institutional end users. At present, PT&T's business activities are categorized into two major businesses: Connectivity and IT Services.

Currently, PT&T has a network reach of 25,916 fiber kilometers in high-growth areas, covering almost 40% of the total Philippine population. The Company holds a 25-year National Legislative Franchise which allows it to establish, maintain, and operate both wired and wireless telecommunications systems for domestic and international communication. PT&T is a publicly listed company in the Philippine Stock Exchange.

For more information, please contact: PT&T's Investor Relations at [email protected] or visit https://ptt.com.ph or check PTTFiberInternet on Facebook or LinkedIn.